Personal Trainer in Gandia – Pablo
Your physical trainer to achieve the improvement in your health and body that you need.
Personal training sessions in Gandia
One option is to choose to train in public open spaces designated for the sport. I bring all the plan, all the material and I guide you so that you give everything and improve in a satisfactory and sustainable way.
I'M GOING TO TRAIN YOU HOME
Do you live in a single-family home with enough space? If so and you prefer, I can go with all the necessary material and carry out the session in your own facilities. Everything adapted to you so that you can achieve your goals.
Know someone else who wants to train? Training with friends or in a group is a great way to ensure greater success in the world of fitness. You will also enjoy interesting discounts.
Who is going to be your personal trainer in Gandia?
Hi, I'm Pablo Montaner.
I am a young personal trainer, but with several years of experience behind me. Since adolescence I have been interested in health and body care. Improving my physique in a balanced and sustainable way was my goal for a long time, and I achieved it.
After a while, I realized that my calling was to help people achieve those goals they had that were so similar to mine. For this reason, I decided to train for it in one of the most prestigious training centers in London, the city where I lived for 5 years, several of which I was a personal trainer in various gyms.
When I returned to Spain, I have worked in various gyms and I have been a personal trainer on my own. Along the way, I have also given group training to young people at the prestigious Lady Elisabeth school in Jávea.
I've worked with many types of people, so I feel qualified to help you. Check here for more information about me.
Don't hesitate and dare to take the plunge!


Personal trainer in several London gyms such as Pure Gym or The Gym.


Monitor of youth group classes at Colegio Lady Elizabeth Javea.


Private personal trainer in London, Javea and Gandia.
BENEFITS OF HAVING A PERSONAL TRAINER IN GANDIA
HEALTH IMPROVEMENT
Not only on a physical level, but also on a mental well-being level. Improving physically will make you happier and make you enjoy better health. You will live with less fatigue and well-being.
Supervision and Effectiveness
Having a personal trainer who teaches you the technique well, corrects your movements and guides you during the exercise can be a transcendental value in your improvement.
MOTIVATION
When fatigue sets in and your will begins to break, a simple piece of advice, a few words of encouragement or a suitable adaptation of the training can help you not to give up.
AESTHETICS
A body that has been physically cared for will always look better. That will be your case. Adopt a lifestyle that leads you to improve in every way.
Examples of the exercises that I apply for sessions in Gandia
PLACES IN GANDIA THAT I PROPOSE TO TRAIN
*Recommended places, in any case, we can choose the place you prefer as a client.
Street Workout Parks in Gandia
Gandía has public facilities to perform incredible calisthenics within our reach. A place in the open air where you can enjoy the benefits of sport and nature in equal parts.
Combining them with my material they are the ideal place to carry out the session. You will also take advantage of the power of weights, kettlebells and other types of exercises.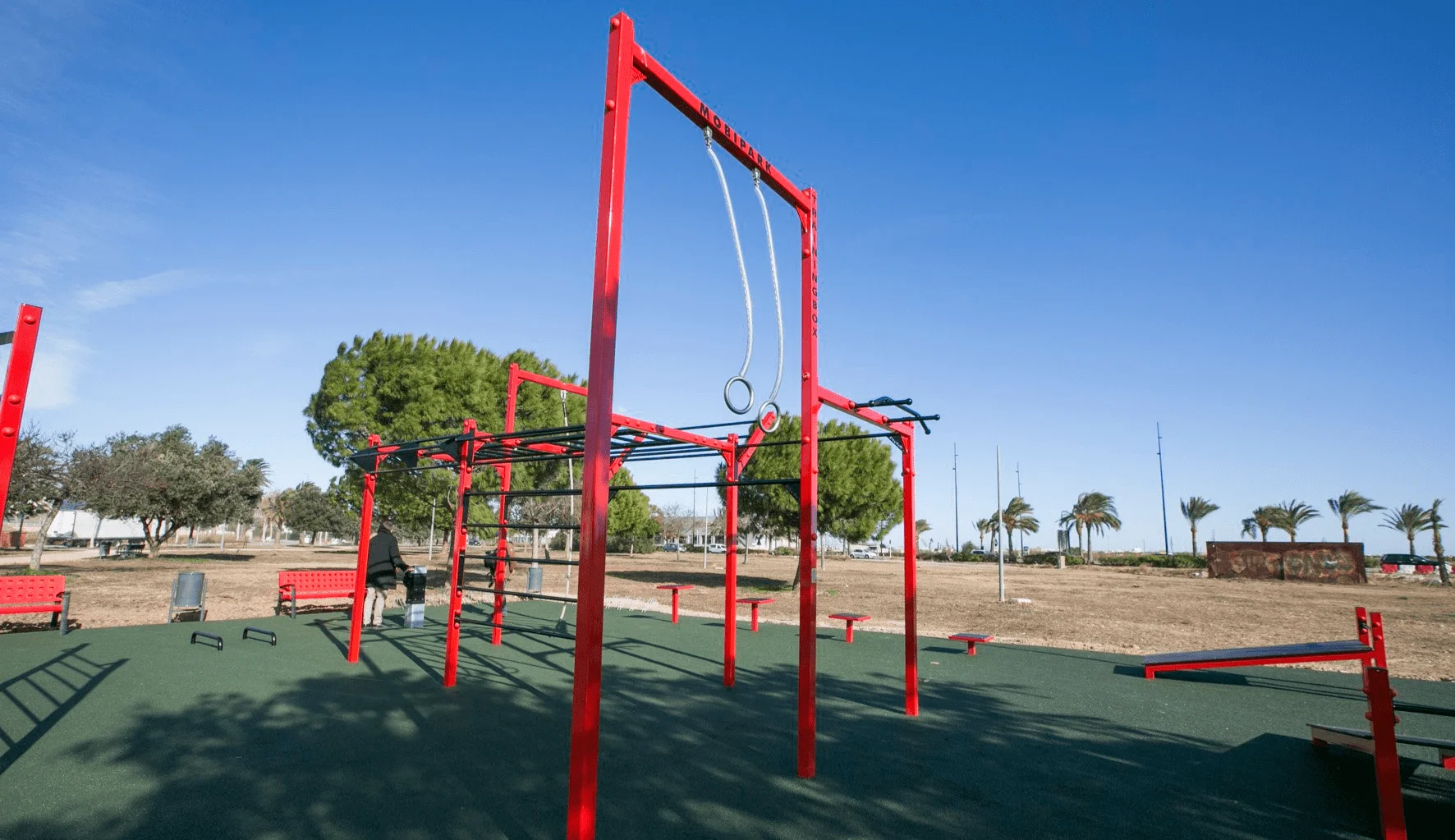 PERSONAL TRAINING ON GANDIA BEACH
If people knew the potential of training on the beach, they would be surprised.
We can train on a hard surface or on the sand itself to add benefits to the training.
Experiences of clients who have already trained with me
I HAVE MANAGED TO BE MORE DISCIPLINED
I contacted Pablo since I had already trained in a gym in Jávea and without a doubt I can say that both as a worker in a center and as a private trainer, he is a true machine that brings out the best in me!
I HAVE PROVEN THAT LOSING FAT IS POSSIBLE
I have achieved a very good physical change thanks to Pablo, without a doubt his advice and training have been very useful for me. I definitely recommend it.
IT HAS ADAPTED TO MY FITNESS
Thanks to Pablo's training I have managed to see myself much better physically, feeling more athletic and healthy. The adaptation has been more than good, everything very easy with a very motivating process. I am very grateful and satisfied.
HE MOVES AND BRINGS EQUIPMENT AND WEIGHTS
I live in the Netherlands, I come on vacation to the Valencian Community every summer. Pablo was recommended to me and I decided to give it a try.
After a summer I can say that the experience is unbeatable. The session, the instructor and the material are prepared for you to improve. Recommended.
IN BRIEF: WE OFFER THIS FITNESS SERVICES
OUTDOORS PERSONAL TRAINING
60 MIN
Train in a place enabled for it in the open air, with the material that I bring you and the best advice.
PERSONAL TRAINER AT HOME
60 min
I go to your training place, I bring the necessary material and the session is done correctly and safely.
PERSONAL TRAINING GROUP SESSIONS
60 min
Training with friends is more fun than doing it alone. Get a discount if you bring someone.
No Results Found
The page you requested could not be found. Try refining your search, or use the navigation above to locate the post.